In the last recent weeks we could read very good critics about "The Wrestler". Wait … a film in which wrestling plays the main role will be praised by film critivs from around the world! This cannot be? Yes, it can be!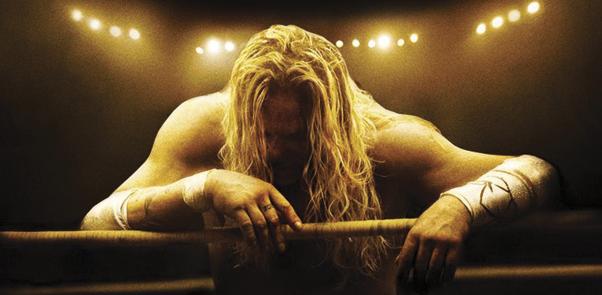 So, what is "The Wrestler"? The former major wrestling star Randy "The Ram" Robinson, who sold out every arena in the 80s, became older and older. 20 years later, Randy only have casual appearances to get money for his trailer. The audience is much smaller and also the fee for Robinson to make something with it, has shrunk. When he was at a bloody hardcore match he suffers a heart attack, his doctor advised him never return to the ring again to rise to his life not at risk. Randy want to make his life better, to come clean with his estranged daughter and he want more to know about a stripper, which he adored. Yet he never quite consequently from wrestling business.
"The Wrestler" isn't for me a typical sports movie, as it may first seem to be. And you should certainly not watch the movie if you want a glossy action film with many In-ring-scenes in which break off the post. "The Wrestler" is primarily a character drama and you have to able with this genre to see that movie without any disappointment. If this is the case, then you will see a terrific character study, which is of couse so highly praised. As a pure wrestling fan with the wrong expectations, you will be disappointed and may be bored, what the film altogether would not be justified. It is an ambitious film, based on a specific targeted audience. Mainstream? Guaranteed not!
Clearly, the focus is the almost documentared of the drawing scrapped Ex-Star, who still lives in the past and consumes from his former successes. Randy "The Ram" Robinson lives in his own world. "Call me Randy", he said with vigor all people, who with his middle name of Robin Ramzinsky appeal. He is proud of what he once achieved, and wants his illusion of self-maintained. He swallows steroids and hormones, meticulously maintains his blond mane and goes regularly to the solarium. The fact that he spends so much money that he did not even rent the trailer for his pay, it does not matter to him. Mick Foley (famous Wrestler, currently TNAW) has a review of "The Wrestler" for the Slate magazine, he points out that this appears to be a very realistic picture of an (ex-)Wrestling stars could draw: "I found great authenticity in so many aspects of Randy's Battered psyche. His constant need for acceptance […] is a theme that many a wrestler will grudgingly admit to connecting with." That his fame has long faded, however, and he is only still in his wrestling world is a familiar face, is" The Ram" always again reminded, especially by his boss from the supermarket where he works. "Are you something special?" asks provocative him Randy, the middle name with his name shall not want. Deep inside "The Ram" knows, that he is a nobody, which in several very emotional scenes repeatedly clear. Great played scene, as he fought with his daughter apologized that he never was there for them and disclose how much it deep behind the facade looks like. "It is only the world out there where I can be hurt," recognizes the star from the 80s, finally, when he was in a wrestling arena, and despite severe heart problems on his appearance waiting. It is precisely at this point in the film, a sentence that looks like so much in 109 minutes under your skin. It affects the main character but always sympathetic, because they have something of a clumsy bear who is in the real world simply will not cope. Incredibly funny, but also again at the same time incomprehensible tragedy, for example, the scenes in which reconciliation Randy a gift for his daughter wants to buy, or when he was behind the delicatessen counter with a hairnet hidden customers needs. Stop looking at stripper Cassidy, in which he recognizes a soul relatives. Even their great season is over and they do not want to acknowledge. "You could be my mother," blaspheme a young man on his bachelor party. Randy Cassidy, her real name is Pam, always give each other support. For Randy Cassidy is still incredibly attractive, and while it offers him a Lapdance, she hear him out happy with his long-forgotten stories of victories. Scenes, without much action on all the main characters of the film commission. On the contrary: It is precisely these sections that "The Wrestler" at such a great film and not the wrestling sequences. The recognized industry Leaf Variety has written: "Rourke creates a moving portrait that instantly its place among the great, iconic screen performances will take"
Of course such a thing does not work if you do not rely on first-class actor can. Originally, it was Nicolas Cage for the part of ex-stars scheduled, but director Darren Aronofsky wanted, the now 56-year-old Mickey Rourke: "I wanted an actor who himself has been through a lot." In some places you can read, Rourke was initially rejected, but until he could be convinced. He himself says in an interview with Focus magazine: "I wanted to work with Darren Aronofsky, about which I heard a lot of good had." Aronofsky, with Mickey Rourke, in my view definitely found the ideal cast.
The for his eccentric behavior – Maxim magazine calls it a "you-know-probably-not-who-you-before-you-have-asshole attitude" – Rourke has known himself has a deep case behind him. The first time in 1981 he was a small role in "Body Heat" to the breakthrough came in 1983 with his "Rumble Fish." Mickey Rourke was the erotic thriller "9 ½ Weeks", in which he erotically with Kim Basinger went to work, to swarm and wife had in 1987 with the famous "Angel Heart" something like a peak. But Rourke had enough of Hollywood. 1991 he decided to professional boxers and to ensure that hammered the first nail in the coffin for his acting career. For five years, he is thus on the water. His attractive face was destroyed by many beauty surgery did the rest of them. Rourke separated from his wife, Carre Otis and lost his goods and chattels. The mid-90s, he was at the bottom arrived. "It did hurt, to be Mickey Rourke. I am woken up angry and went to bed angry "…" I think I was really insane and ran amok, "says Rourke said in an interview today with the Focus. His first comeback in 2005 celebrated Rourke in "Sin City", with the acclaimed "The Wrestler", he is finally back at the summit. Again and again we read of the "role of his life." At the Oscars, he is empty, the Golden Globe but Rourke has earned. For his role as a wrestler, he has a lot to itself. Every day he tranierte with an Israeli army instructor, put 20 kilograms of muscle mass and took perhaps even steroids, as shown on the demand Men's Journal has indirectly admitted: "If I see a wrestler games, do I behave like one. "The role of Randy Robinson presented Rourke to a friend of his brother who as a part-time wrestler Magic was active. "I liked the script but rather mediocre for wrestling and I had absolutely no respect. Darren but allowed me, all my own rewrite scenes, and I took a lot out of my own past with the movie. "Aronofsky apparently knew why he necessarily Mickey Rourke wanted to have, even if initially these problems in the transition from boxing to the Wrestling had: "At the pit, the entire movement from the shoulder, from below. When Wrestling Holst you like an idiot, far from the rear. At the beginning, I had to really struggle through the training. I just had the wrong setting: Wrestling is for idiots. It took more than six weeks until I was about hinwegkam. "
How was this wrestling despise but still someone who has even an appearance at WrestleMania XXV consider moved (by the way is still not clear on the table)? "Eventually, after six weeks, Darren got me small. I heard to make me ashamed that I have a wrestling film roll. And suddenly made it fun. And then I wanted to prove that I can just as well as those wrestling idiot. So I persuaded the stunt coordinator to send me new, more complex movements to teach. I was so ambitious that I secretly trained at the weekend and Darren and the fans on Monday with new moves surprised. "The fact that he had packed the ambition, we see Rourke in every wrestling scene in the movie. Of course you have to remember that it is certainly a mistake cutting laminated work of the cutter came to Good. However, especially of the "Ram Jam", a Flying Headbutt from the top rope, from really cool. And Mickey Rourke convinced otherwise when the in-ring scenes. Thus, for example, also a Enziguri and Headscissor to offer. Whoever thought this was just a stunt man at work who also has long blonde hair is wrong. One of the requirements of the director, it was that his main characters, these scenes play themselves. That ultimately the whole thing even more realistic effect, ensuring the audience in the movie. The scene was in fact real wrestling events – eg Combat Zone Wrestling and Ring of Honor – shot, because the budget of the film was too small to even such a thing to organize. Of course it may look behind the scenes are not missing. For some it is sobering fail, while others are fascinated by them, like working here. In any case, it seems the director here in both scenes in and outside of the ring the right note to hit, as Mick Foley confirmed in his review: "So Aronofsky achieves to authentic atmosphere in the variety of wrestling venues he showcases. His decision to cast working independent Wrestlers and to independent film at real wrestling shows what wise and gives the film a gritty documentary feel. The wrestler then does a wonderful job depicting the backstage camaraderie among fellow Wrestlers Randy's, the eclectic blend of muscle heads, dreamers, athletes, and artists who serve as an unlikely support system for Rourke's character. "Foley must be well aware, his statements speak for themselves. If someone who is apparently little to do with wrestling at Hut has expressed about this, it sounds the way, as in Europe's biggest film magazine Cinema, which is saying that in these sequences "respectfully the bizarre parallel world-family behind the clownish Catch-researched backdrop" will.
A little goodies for us wrestling fans, it is, of course, some famous faces in small roles to see it. Plays R-Truth, as the most famous among many, a friend of Robinson and is also very briefly to see in action. Ernest "The Cat" Miller, as some still-WCW commissioner in memory might have are the old rivals, The Ayatollah, the 20 years after their big feud once again on the anniversary of Robinson fight in the ring increases. Who will be closely inter alia even Claudio Castagnoli, or Austin Aries recognize them. This makes the film as a wrestling expert obviously still a bit more fun than the audience, dealing with the matter not so familiar.
The first was "The Wrestler" at the prestigious Venice Film Festival celebrated, where director Darren Aronofsky got a Golden Lion. Became the director of the movie "Pi" before he "Requiem for a Dream" one of the best drug movies ever filmed. Him, who – according to my impression – apparently quite intensive, and without prejudice to the matter dealt Wrestling, it is also thanks to Mickey Rourke such a fabulous actor delivers performance, as the main actor himself in the portrait of Maxim concedes: "He said me: "You have to respect me. You have to do everything I tell you. "The guy has really eggs. He was convinced: "If you're doing all this, we will go to the show." With the Show 'he said, the Oscars. "Well, he had not said that the golden boys would also win.
As mentioned above, is "The Wrestler" almost semi-documentary on me as a viewer. Aronofsky placed the camera in many settings, directly behind the main character. As viewers follow Randy Robinson at every step and he can at his craft over the shoulder. A clever trick to the viewers into the action to integrate. Even in the scenes in the ring is the case. How close is it in the WWE-TV is certainly not. The impression is also a documentary nor the coarse image and the many close-ups of faces. Yet there is still Mätzchen director with the back and shows the essentials. These are in his extraordinary film actor and the fabulous nature of drawing. At this point, of course, is seen as above especially Mickey Rourke, but also Marisa Tomei as an aging stripper can totally convincing.
How to get from my comments certainly have to read out, I was thrilled with "The Wrestler" and this film would without hesitation give 10/10 points. Just as mentioned above, you may be wrestling fan does not ignorant to the cinema and then run through false expectation disappointed. That does not mean wrestling here only a marginal phenomenon, but is rather the man behind the wrestlers at the center, which might disappoint some who want to watch something else. The Cinema summarizes it fits together, if there is to read: "Director Aronofsky and his cast present a superb free-moving ballad – both fascinating and sobering." WWE boss Vince McMahon has the film initially deuced because here seems to be a glance behind the scenes of the otherwise outwardly so radiant wrestling circus thrown. This in itself is a reason the film and himself to form an opinion. Vince that his public opinion is rotated 180 degrees, you can safely be credited to the fact that it is simply a piece of cake abhaben Publicity wanted. The hype and the positive criticism in "The Wrestler" and not exaggerate, at least I can express myself in my review only connect. Mickey Rourke himself says in Focus interview: "I am very proud of this film." As I am part of the audience do it too!